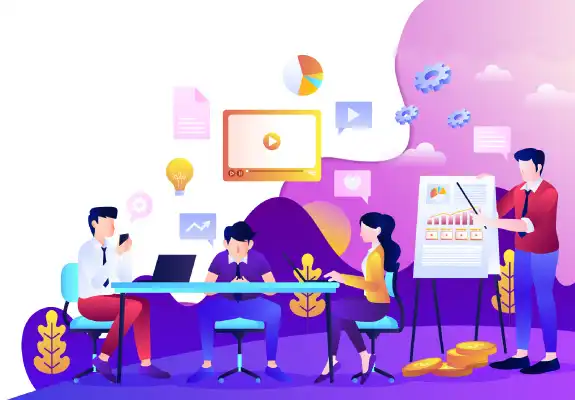 For Increased Brand Awareness and Visibility, Opt For Our Customize

Social Media Management Services

In the present year, there are around 4.89 billion social media users worldwide. Furthermore, such a large percentage demonstrates how important social media management can be to a company's success. You can significantly enhance website traffic and brand exposure with an efficient social media strategy. It is for this reason that Infiniti Business Solutions in Texas offers outstanding social media management services. These services are available for all social media websites, including LinkedIn, YouTube, Facebook, Twitter, Instagram, Tiktok, and many others. Additionally, we adapt our social media services to meet the needs of each client.
What Do We Provide Under Our Social Media Management?
Digital marketing agencies' social media management services are a key component in helping businesses increase their online visibility, connect with their target market, and generate more leads and conversions. The following are the key elements of the social media management services we provide to our clients.
Developing a Social Media Strategy
Any effective social media campaign is built on our social media strategy. It includes analyzing the target market, determining our social media objectives, choosing the appropriate social media platforms, and creating a content calendar.
Creating Social Media Content
To hold your target audience's interest, you must create high-quality, compelling content. Hence, our team of expert writers produces original content, images, videos, and animations for various social media platforms.
Graphic Design
Social media posts' visual attractiveness is quite crucial for drawing in the audience. For the purpose of producing captivating and distinctive photographs that stand out on social media, we also provide graphic design services.
Social Media Advertising
Paid social media advertising is a practical approach to expand your audience, increase interaction, and encourage sales. Thus, our expert team designs and manages social media ad strategies that complement company objectives and demographic targets.
Monitoring and Reporting
Successful social media management services track engagement, reach, and conversions by continuously monitoring social media sites. So, our in-depth analyses of performance indicators enable businesses to see what's working and what isn't, enabling them to make wise decisions and modify their social media strategy as necessary.
Influencer Marketing
Influencer marketing has become a popular tactic that makes use of influencers on social media to advertise goods and services to their followers. As a result, our social media management services find the appropriate influencers and design influencer campaigns that complement company goals.
Community Management
Being social media management service providers, we also take care of community management, replying to messages and comments, and engaging with followers. As a result, brand loyalty and a good internet reputation are increased.
Social Media Audits
We conduct a social media audit to assist businesses in assessing their existing social media presence, highlighting areas for improvement, and creating a roadmap for upcoming social media initiatives. To make sure businesses are utilizing social media to its fullest potential, we conduct various audits.
For Effective and Powerful Social Media Management—Contact Us
Our social media management services include planning and implementing a social media strategy, producing interesting content, using visual design, advertising on social media, tracking and reporting, influencer marketing, managing communities, and conducting social media audits. We also assist companies with relationship building, website visibility, and establishing a solid online presence. Let us handle your social media by getting in touch with us right away.